Latest topics
»
Stickers / Αυτοκόλλητα
by
Admin
Wed Nov 20, 2019 10:02 am
»
EUROPE, UNITED KINGDOM, SCOTLAND, GLASGOW, BLAIRQUHOSH 2019-OCT-27
by
ktRinity
Thu Oct 31, 2019 6:36 pm
»
EUROPE, UNITED KINGDOM, SCOTLAND, GLASGOW, CLYDESIDE, 2019-OCT-26
by
WesternAussie
Thu Oct 31, 2019 4:03 pm
»
Μπορεί ένα Drone να κάνει ζημιά σε αεροπλάνο? / Can a drone damage a plane?
by
ktRinity
Thu Oct 24, 2019 8:00 pm
»
Drone σε αεροπλάνο / Taking a Drone on a Plane
by
ktRinity
Thu Oct 24, 2019 6:24 pm
»
EUROPE, GREECE, EPTANISA, LEFKADA, 2017-MAY-07
by
ktRinity
Tue Oct 22, 2019 7:33 pm
»
Geofencing
by
Admin
Thu Oct 17, 2019 10:44 am
»
EUROPE, GREECE, ATTICA, AIGALEO, 2019-OCT-13
by
ktRinity
Sun Oct 13, 2019 4:56 pm
»
Drone Bags & Backpacks
by
Admin
Sat Oct 12, 2019 10:59 pm
Top posting users this week
Most active topic starters
Social bookmarking


Bookmark and share the address of Drone hangar on your social bookmarking website
Coordinates: 37.730030, 23.943890
Date: 2019/9/27
Time: 16:30
Winds: Low (maybe 1-2 Beaufort)
Drone: Hubsan Zino
Mods: None
This area goes back in time.. In the whole area can be found traces of human presence dated back in prehistoric ages.
Anavissos
(or
Anaflistos
in Ancient Greece) is an area in which many Asia Minor immigrants arrived during
Catastrophe of Asia Minor
(1914-1918) & (1920-1924). Specifically, this flat "arena" was used for agriculture and as
"salt flat" or "salt marsh"
until 1969. Until now this area is not commercially used. From 2014 this area has been characterized as wetland by law (4277/2014). This place is too popular between air model hobbyists!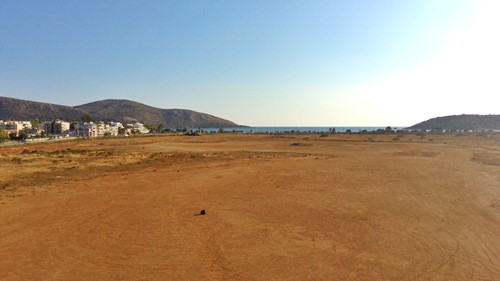 ---
Permissions in this forum:
You
cannot
reply to topics in this forum